Welcome to
Pica's Gallery
A place with older
Ask (And Tell) Pica!
stuff saved for posterity, fan art, drawing tutorials, and even Pica's debut webcomic in its entirety.
Fan Art
Art by
spark70708
"Original Format" Comics
Vintage Comic Banners
There are at least two banners that predate these, but their files have been lost for a long time and it's unlikely they'll ever turn up. But believe me when I say that you aren't missing anything as a result of it.
You can roll over the banners to see some additional information about them!
Banner #3; Ask Pica! 2010



Banner #4; Ask (And Tell) Pica! v1



Banner #5: Ask (And Tell) Pica! v2



Banner #6: Ask (And Tell) Pica! v3

Tutorials
You can be rest assured that the download links here are 100% safe. All files are hosted under Box.

---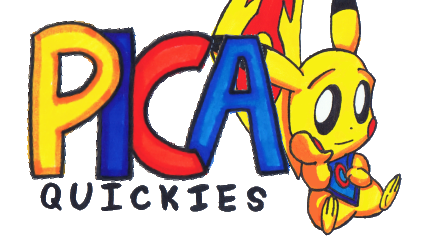 These are short, hand-drawn newspaper-style gag comic strips featuring Pica and friends drawn around 2010 to 2011. This was intended to become a series, but it never really took off. I'd never say never (except when you're telling someone to do that), but I think Pica has more appeal as an ongoing story, so I don't think more Pica Quickies are in store for the future. A few of them are borderline PG-13, so don't go in expecting rainbows, unicorns, and other fluffy colorful apparatus.